The Billionaire's Island Reunion
and
Reunited Under the Mistletoe
The Billionaire's Island Reunion
and
Reunited Under the Mistletoe
What a year! I've been so busy that I didn't golf for weeks, as I scrambled to hit deadlines!
But that's very exciting because that's more books for you. In November,The Billionaire's Island Reunion releases. December sees the release of Reunited Under the Mistletoe.Plus, there will be three books in 2022 and two in 2023.
I have to say, writing The Billionaire's Island Reunion was one of the most fun times I've had as a writer. While the story has the delicious emotional romance that makes us all sigh with happiness, it's also kind of funny. But the location? Key West? The private island of a billionaire? It does not get much more fun than that.
If you're looking for a getaway, this is the story for you. Honestly, I felt like I was in a tropical paradise the entire time I worked on The Billionaire's Island Reunion. I missed it when I finished it. LOL
Here's the blurb:
His unexpected house guest!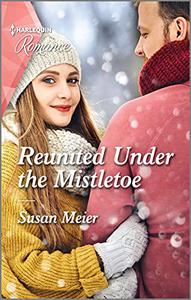 But is she there to stay…?
In this A Billion-Dollar Family story, twelve years ago, with no warning or explanation, Reese Farrell broke Cade Smith's heart. Now she's lounging by his pool! Stranded on his paradise island, they've no choice but to get to know each other again. But the happy girl he once knew is now a strong, gorgeous and guarded woman. Can Cade convince Reese to trust him with the traumatic secret that once ripped them apart?

The December release, Reunited Under the Mistletoeis part of a continuity with a backdrop of a society wedding in Manhattan. My characters were in the wedding party, so they were very involved in the planning…but seriously? Who doesn't want to plan a wedding for a rich girl with an unlimited budget? I got to scout for dresses for the bride, bridesmaids and mothers of the bride and groom. I searched fancy cakes and linens. But, really, the most fun was the romance between Autumn and Jack who had had a one-night stand then parted for the most horrible of reasons. No couple ever deserved a second chance more than these two…
But the dance lessons for the special dance the bride wanted her bridal party to perform at the reception? Sigh. Those scenes were funny and romantic. So romantic.
Here's the blurb for Reunited Under the Mistletoe:
From one long-ago night…

To a Christmas reunion!

In this A Wedding in New York story, Autumn Jones is in shock after coming face-to-face with CEO Jack Adams again! How is she supposed to be his partner for their friends' glamorous winter wedding after the blush-inducing memories of their one amazing night together five years ago? But the minute they find themselves under the mistletoe, Autumn's plans to keep her cool start to melt…
Anyway, you're going to want to read those two. LOL I might read them myself just because they were delicious.
For the writers among us, I'm booked to speak at the Pennwriters' conference in Lancaster, Pennsylvania May 13-15, 2022. I'll be giving two workshops: Taglines, Blurbs and Covers, (Your Three Most Important Marketing Tools) and Conflict and the Category Romance. Should be tons of fun.
My book Crack the Code: Craft Your Novel Using Story, Scenes and Words is still available on Amazon and like platforms.
As I write this, Halloween is only a few weeks away, Thanksgiving is a hop, skip and a jump beyond that and Christmas is around the corner. Believe it or not, my shopping is DONE. LOL
I wish you peace, joy and happiness as we finish out 2021. Here's hoping 2022 is a simple, happy year.