THE SINGLE DAD'S ITALIAN INVITATION
and
HIS MAJESTY'S FORBIDDEN FLING
Two Releases Coming Soon!
THE SINGLE DAD'S ITALIAN INVITATION
and
HIS MAJESTY'S FORBIDDEN FLING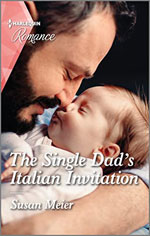 In April and June 2022, I have two totally different books for you! The Single Dad's Italian Invitation is the sexy-sweet story of former lovers reuniting. Wyatt White grew up in a world where his wealthy parents saw him more as one of their many possessions than a child or even a person. He vowed never to trust love—or any emotion at all. He'd dated Sophie Sanders for almost a year but broke up with her when it looked like she was falling in love.He broke up with her to protect her. In his mind, he liked her enough that he nobly let her go. He doesn't want to be responsible for anybody's happiness—
Then an old girlfriend drops a baby off at his penthouse, telling him the little girl is his and she can't take her on her next work assignment, making him not merely responsible for Darcy's happiness, but her food and clothes and whether she sleeps at night.
Wyatt does okay until the day before he has to go to Italy for his biggest negotiation ever. He's got to make a deal that can make or break the company he shares with two friends.
But Sophie's got bigger troubles than a man who dumped her whining about needing a nanny. Her mother has been arrested. Her condo is being seized by the Feds. Two months away from getting her degree, she's broke and homeless. Worse, the press wants a statement. They want to hear juicy details about her mom. She needs to get away.
When Wyatt goes to her apartment to see if there's anything he can do, they realize they are the answer to each other's problem. But that answer comes with its own questions.
How can she live with the guy she adores for six weeks and not fall in love again? Or how can Wyatt pretend love doesn't exist when he sure as hell feels it for his baby daughter and now he's beginning to feel it for Sophie?
It's not quite so steamy that the pages burst into flames. (LOL) But it's a funny, sweet, sexy story that will have you rooting for these two to realize love is worth the risk.
His Majesty's Forbidden Fling? That's a little bit hotter and maybe even a little bit crazier. The story of a king whose wife had died five years before, leaving him to raise two sons alone, His Majesty's Forbidden Fling follows King Jozef Sokal as he tries not to fall in love with the much younger PR woman assigned to clean up his sagging reputation with his subjects. She's smart. She's gorgeous. She's about the sexiest woman he's ever met. But she's also only five years older than his sons. Worse, his sheltered life where his first wife was basically chosen for him, hasn't prepared him for an overwhelming attraction to a woman who is off limits.
Jozef's sons are funny. Rowan is sassy and fun, equal to the task of going toe to toe with a king. And Jozef—whether he knows it or not—is ready for the kind of love that makes his heart beat faster and everything he thought he knew about who he was irrelevant.
You've gotta read this one!
Oh, and, though I paused to do a continuity for Harlequin Romance the beginning of this year, my editor and I decided that Jozef's princely sons definitely deserve books of their own. So that's what I'll be working on the rest of this year.
Lots of fun stuff ahead for me.